Jesus Saves Racing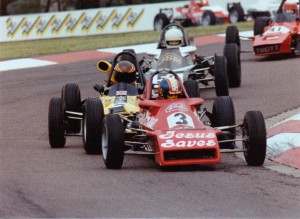 Coming soon – The Resurrection
In 1978 Formula 1 driver Alex Ribeiro and a group of skilled engineers, mechanics and friends formed 'Jesus Saves Racing'. Alex had risen to the top of motor racing both in Brazil and Europe winning in every category on route to the pinnacle of the sport. During this time Alex was (and still is) a committed Christian and as he rose to stardom he carried with him the declaration 'Jesus Saves' on his car, helmet and overalls. After life as a March F1 driver in 1977 the following year brought the opportunity to take this two word sermon to greater exposure in the sport by establishing 'Jesus Saves Racing' as a Formula 2 team. After ten years of 'Jesus Saves' being on track the team was officially born.
That first season brought with it an epic David over Goliath win at the Nurburgring as the independent Alex led the 'works' cars of Keke Rosberg and Eddie Cheever past the chequered flag for an incredible victory. Autosport's Jeff Hutchinson titled his report of the race – 'Jeez! What a race…', saying that 'the race will undoubtedly be one of the highlights of this year's F2 season.'
In '79 'Jesus Saves' re-grouped to take on the British Formula Ford championships. As Alex's brilliance had returned him to F1 with Fittipaldi his highly rated and super quick brother (Fernando) stepped in to pilot the 'Jesus Saves' Van Diemen RF79. This partnership resulted in many victories in three separate championships including the RAC championship where he became championship runner up. Due to his impressive speed Fernando signed as a 'works' European Formula Ford driver in 1980. He was able to carry the 'Jesus Saves' logo on his car winning three races and finishing on the final championship podium in third place despite not taking part in all of the races!
By the close of 1980 both Alex and Fernando had returned to Brazil. 'Jesus Saves' had been ten years in the making and after three years it was apparently over. However, Fernando eventually drove to greater success in the USA where he once again carried the 'Jesus Saves' logo winning two championships and an incredible twenty five races in the Jim Russell series.
Today 'Jesus Saves' Racing is being reborn. During 2012 there has been much discussion and planning with Alex, Fernando and the original members of the team from the late 1970s (many of whom have had long and successful careers at the top of motor sport). These discussions have been inspired by a number of new team members who feel called to take up the batten. The original 'Jesus Saves Racing' team have warmly welcomed this new generation and together the original and the new will race combining both experience and energy as they reinterpret Alex's vision from over thirty years ago.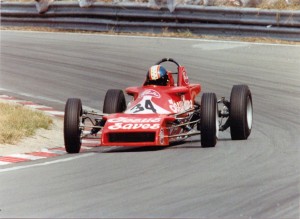 The aim of the team is to be true to its past. The plan is to re-enter motor sport in the very same place where the team left off – racing Fernando's Van Diemen RF79 in 'Classic Formula Ford' (this car has been kindly loaned to the team by its long time owner/driver, David Brown).
The vision of the team is still the same – the team believes that there is something more important than anything else (including motor sport); this is the Good News of Jesus Christ and His saving love for the world. As a team we see that sharing this vital message is possible in, and through, motor sport. In doing this we seek to play a small but worthy part in inspiring a generation of men and women as they meet the person of Jesus Christ in their sporting culture.
'Jesus Saves Racing' has two parts to its make up financially:
Firstly there is the motor sport part which is funded by commercial companies through a traditional sponsorship model, (i.e. funds are given to run the car in return for advertising space and commercial exposure).
Secondly, the evangelism side, where funds are pledged by Christian churches, organisations and individuals specifically for the team to be able to receive 40-50 guests per race so that we can share faith, food, conversation, literature and a Gospel presentation with them. It must be clearly stated that anyone who gives to the evangelism side of the team can be assured that their gift is being used only for Gospel ministry. The racing side is funded through commercial Christian companies who have both heart for the work of the team as well as a need to benefit from the exposure that motor sport sponsorship gives.
For further information please contact – Alvin Davies 07866 413409 alvin@renegadesaint.co.uk or Adriano Medeiros – 07782193073 adrianogm@hotmail.com
I was delighted to be given a last minute chance to jump back into a Lotus Evora (albeit a GT4 rather than its big brother, the GTE) and have another run in the Britcar 24hr at Silverstone with Cor Euser's very experienced team. I was joining Scotland's Alastair McKinnon and Americans Jim Brodie and Hal Prewitt – this was Jim's 63rd 24-hour race giving a collective experience of over 100 such races between us!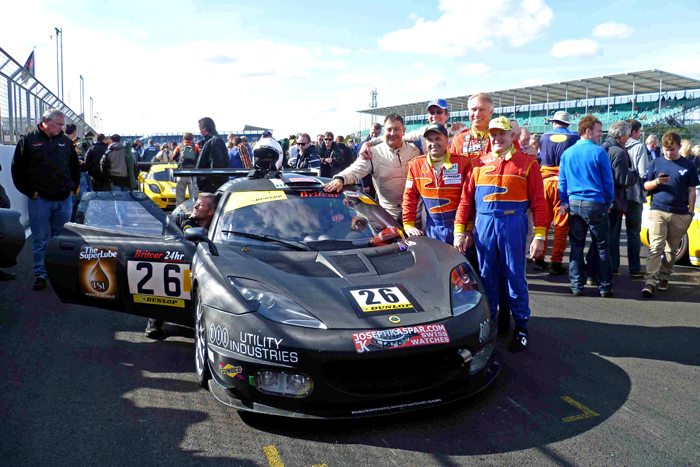 Friday's qualifying session was used to give each driver a brief feel for the car and track and to complete the requisite number of laps. Cor also jumped in to make sure he was qualified and helped us to capture Class 3 pole. Even more encouragingly, the night session turned wet shortly after the start and showed the car to be extremely competitive in such conditions – Cor reporting that I was the second quickest overall in the wet despite having done less than ten laps in the car!
As we lined up on the grid, hopes were riding high that a trouble-free drive could yield a very strong result. Alastair started well, holding second in class and running in a pack of cars as the Class 1 leaders sprinted away. However, after just seven laps disaster struck as the front right suspension ball joint failed on the way into the Maggotts-Becketts complex and Alastair reacted superbly to maintain control
and avoid a huge crash. He limped round and the team did an incredible job to get the car going again in around forty minutes, albeit now down in 32nd place with a huge gap to the cars in front.
Despite initial concerns about not having had time to properly re-align the wheels, the car was handling beautifully as firstly Alastair and then Hal and Jim put in some strong, consistent stints to slowly reel in the field. By the time I jumped in, night had well and truly fallen and we had reclaimed a few places to be 28th overall but still firmly last in class.
I was told I would be doing a double stint, so I needed to look after the tyres – advice I naturally replied positively to in the pits and promptly ignored once behind the wheel… The car felt fabulous and the corner lights were so good that I could clearly see each corner apex and push hard immediately. The laps times quickly fell into a 2.18-2.20 range which I was able to maintain consistently for the next three hours, generally third fastest overall (to the Mosler and GT3 Ginetta) and a good 10 seconds or more quicker than the majority of the field.
An early safety car enabled me to extend the run by making a quick splash-and-dash pit stop, but the tyres held up superbly – although they were literally down to the threads by the end! (The chief mechanic giving me something of a confused / "you nutter" look when commenting that I had managed another 2.18 on them moments before pitting…)
I was hoping that I'd done enough to pull us back into contention with the pack, but a small round of applause as I was welcomed back into the garage revealed that we'd climbed from 28th to 12th overall and 4th in class, just two laps off class third! Very pleasing!!
Alastair picked up the baton and kept up the strong momentum into the early hours, followed by Hal towards the half way point of the race. By this stage we were back up to an incredible 6th overall and 2nd in class, whilst steadily reeling the class leader in. Unfortunately though as Hal was on his in-lap he felt the paddle-shift gearbox beginning to refuse to select and by the time he reached the pits we were left with a box of neutrals. A thorough inspection revealed it was the internal selector mechanism which would require a full gear box change – a matter of many hours on this road-car variant. And so it was with much regret that the shutter doors came down and our heroic fightback
came to nought, the sight of a stationary Lotus just a little too familiar….
It was great to be back on track again and have a good run. Failures like this, whilst always disappointing, are part of what make endurance racing so hard. It was also lovely to catch up with a few fans (you all know who you are!!)
Fingers crossed I will be back out on track again soon…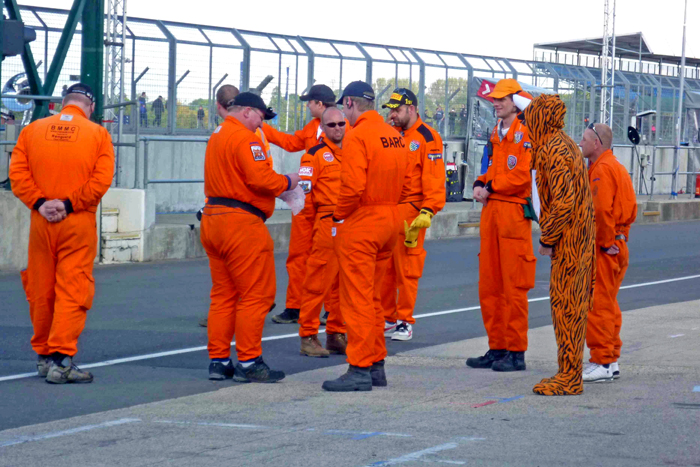 "Err .. Did I bring the wrong outfit..?"
CLICK HERE
for downloadable pdf of this story
ALUIZIO COELHO IS GOING TO CURITIBA FOR THE SECOND RACE OF COPA MONTANA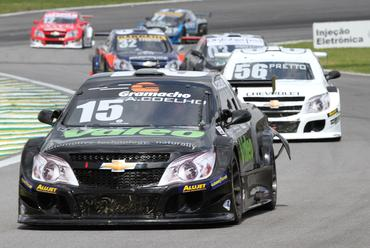 Aluizio Coelho had been at the Christians in Motorsport AGM, this year, brother in JESUS Christ Aluizio was a Formula Renault champion in 1998 and the prize for the champion was a test at Williams F1 car.
In 1999 Aluizio was Jenson Button's team mate. Today the driver is participating in the Feeder Series for the main championship in Brazil, the Copa Caixa Stock Car.
Aluizio is confident for the race weekend as he believes in the team, which has a great history in motorsport in Brasil, and trusts that he knows the car better for a good result in Curitiba this weekend.
CIM members can pray for our brother in CHRIST who is in Brasil doing what he does best for the Honor and Glory of GOD almighty.
Adriano Medeiros