JESUS SAVES RACING TEAM
Jesus Saves Racing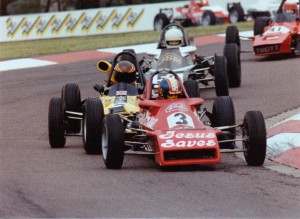 Coming soon – The Resurrection
In 1978 Formula 1 driver Alex Ribeiro and a group of skilled engineers, mechanics and friends formed 'Jesus Saves Racing'. Alex had risen to the top of motor racing both in Brazil and Europe winning in every category on route to the pinnacle of the sport. During this time Alex was (and still is) a committed Christian and as he rose to stardom he carried with him the declaration 'Jesus Saves' on his car, helmet and overalls. After life as a March F1 driver in 1977 the following year brought the opportunity to take this two word sermon to greater exposure in the sport by establishing 'Jesus Saves Racing' as a Formula 2 team. After ten years of 'Jesus Saves' being on track the team was officially born.
That first season brought with it an epic David over Goliath win at the Nurburgring as the independent Alex led the 'works' cars of Keke Rosberg and Eddie Cheever past the chequered flag for an incredible victory. Autosport's Jeff Hutchinson titled his report of the race – 'Jeez! What a race…', saying that 'the race will undoubtedly be one of the highlights of this year's F2 season.'
In '79 'Jesus Saves' re-grouped to take on the British Formula Ford championships. As Alex's brilliance had returned him to F1 with Fittipaldi his highly rated and super quick brother (Fernando) stepped in to pilot the 'Jesus Saves' Van Diemen RF79. This partnership resulted in many victories in three separate championships including the RAC championship where he became championship runner up. Due to his impressive speed Fernando signed as a 'works' European Formula Ford driver in 1980. He was able to carry the 'Jesus Saves' logo on his car winning three races and finishing on the final championship podium in third place despite not taking part in all of the races!
By the close of 1980 both Alex and Fernando had returned to Brazil. 'Jesus Saves' had been ten years in the making and after three years it was apparently over. However, Fernando eventually drove to greater success in the USA where he once again carried the 'Jesus Saves' logo winning two championships and an incredible twenty five races in the Jim Russell series.
Today 'Jesus Saves' Racing is being reborn. During 2012 there has been much discussion and planning with Alex, Fernando and the original members of the team from the late 1970s (many of whom have had long and successful careers at the top of motor sport). These discussions have been inspired by a number of new team members who feel called to take up the batten. The original 'Jesus Saves Racing' team have warmly welcomed this new generation and together the original and the new will race combining both experience and energy as they reinterpret Alex's vision from over thirty years ago.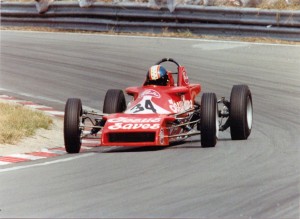 The aim of the team is to be true to its past. The plan is to re-enter motor sport in the very same place where the team left off – racing Fernando's Van Diemen RF79 in 'Classic Formula Ford' (this car has been kindly loaned to the team by its long time owner/driver, David Brown).
The vision of the team is still the same – the team believes that there is something more important than anything else (including motor sport); this is the Good News of Jesus Christ and His saving love for the world. As a team we see that sharing this vital message is possible in, and through, motor sport. In doing this we seek to play a small but worthy part in inspiring a generation of men and women as they meet the person of Jesus Christ in their sporting culture.
'Jesus Saves Racing' has two parts to its make up financially:
Firstly there is the motor sport part which is funded by commercial companies through a traditional sponsorship model, (i.e. funds are given to run the car in return for advertising space and commercial exposure).
Secondly, the evangelism side, where funds are pledged by Christian churches, organisations and individuals specifically for the team to be able to receive 40-50 guests per race so that we can share faith, food, conversation, literature and a Gospel presentation with them. It must be clearly stated that anyone who gives to the evangelism side of the team can be assured that their gift is being used only for Gospel ministry. The racing side is funded through commercial Christian companies who have both heart for the work of the team as well as a need to benefit from the exposure that motor sport sponsorship gives.
For further information please contact – Alvin Davies 07866 413409 alvin@renegadesaint.co.uk or Adriano Medeiros – 07782193073 adrianogm@hotmail.com