Jesus First Racing Team had a great weekend in Taupo (New Zealand) racing with the All Classic Japanese Series.
Friday was practice day, and we had 4 sessions to get back into the groove of the tight and technical track.
We were able to take 4 people for hot laps, which was great to be able to share the excitement of racing.
Saturday we had 10 min qualifying and three races.
Taupo weather was hot and dry, which rewards the nimble Honda Civic everywhere except the long back straight. Limiting out in 5th gear at 200kph, the bigger cars just manage to squeeze past if they're prepared to out-brake our Willwood equipped weapon.
Race One I started from 6th and it was a hectic and very tight 6 lap sprint with two similar Civics. I dropped a spot to a turbo Nissan early on, that had issues in qualifying so started behind us. Mid race I reeled in a turbo Toyota Starlet that was quick in a straight line, but didn't have the brakes to stay in front. Crossed the line in 6th place, and managed a 1min 46s lap in the process, which is a great result.
Race Two was a handicap start, from 6th to last on the grid. This is bad, as all the cars behind me are much faster. The day was hotter and our year old tyres were just not up to the task. Lacking grip in the tight sections of the track meant the bigger cars quickly got past and disappeared into the distance. Managed to chase the mid-pack cars I had battled with in Race One, but didn't have the grip to put any moves on them. Due to the large handicap, ended crossing the line in 17th, unable to get by the slower cars who do an admirable job of being as wide as possible.
Race Three, another handicap race from the mid pack, but the tyres didn't grip up at all so it was like driving on bald road tyres in the rain!
However, within 3 laps the front left CV started to bind up and as I knew what that feeling was, I pulled into the pits to avoid it falling apart on track.
Not a terrible result, considering its an easy fix and nothing actually broke, the trusty JFRT Civic could be driven onto the trailer. The heat and a whole day's practice meant they expired a bit sooner than usual.
Huge thanks to our sponsors for making this weekend happen:
LiquiMoly Oils NZ,
Speedscience,
NZ Travel Brokers Tauranga,
Novus Autoglass
Summit Tyres
Sherson Auto Centre without whose help we wouldn't have had the car ready for this round.
Also great to have the support from 15 friends and family who filled our pit garage over the weekend and lent a hand where needed.
I managed to run a few video cameras in the car, including Facebook Live during one race! So head on over to www.jfrt.com and check it out. Gives a really good insight to how physical these circuit cars are seeing the driver wrestle it around the track.
We really need a tyre sponsor as we have officially stretched these Hankooks to within an inch of their life!
Next ACJS race is in February, but we have a prior commitment that weekend. Friday March 17th is an NZ Honda Track Day that we can take passengers on, and run our old slicks (slicks aren't allowed in ACJS) so if any of our amazing sponsors want some hot laps, let us know and you have first option.
Hope the new year is all treating you all well, and hope to see you track side in the future.
Thanks to Lance Somervell and the Jesus First Racing Team for sending us this race report.  God bless you in your ministry and racing.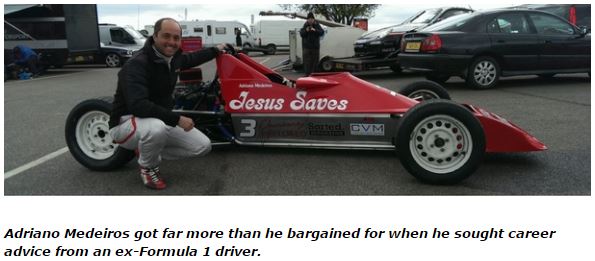 We love working with partner organisations who share our Gospel aims.  Christians in Sport are one of those groups who share our passion for evangelism.  They have released this great story about the faith and racing of Adriano Medeiros, the Jesus Saves Racing Team driver for this season and ex-Chairman of Christians In Motorsport.  Check out the story by clicking on the image above or following this link here: http://www.christiansinsport.org.uk/news.asp?itemid=6700&itemTitle=Faith+in+the+fast+lane&section=22&sectionTitle=Stories&from=&to=
Nick Grahame is competing in 2016 in the Caterham Academy, a series where you build your own car then race it in a variety of motorsport meetings around the UK. Here is his report from his latest outing at Curborough sprint course near Lichfield.
"I went in with a very different mindset to Aintree (the previous sprint round in the championship) and clear objectives: get some points, bring it back in one piece, and not to get hung up on other people's times.
I've had some inside thoughts from a couple of sprinters I know (one who's driving can be read about on this website), and I tried to make work the advice that I couldn't at Aintree. For me the answer was video footage, something that I hadn't bothered with at Aintree (and I wish I had).
We were limited to one practice and two timed runs, with two hours in between! I went out exactly as planned on the practice run – driving at 7/10ths and camera running. The next two hours were spent relaxing and watching the practice run on my laptop. This helped massively as this time it was fresh in my mind and I knew what I had to do.
First timed run put me 4th, and watching the footage I could see where I still lost time. Despite knowing where I had to fix my run, I overcooked it into a corner on the second run. I knew I'd stuffed it, so enjoyed the rest of the the final run, showboating for the spectators, and called it a day. Frustrating to see myself slip down to 6th, but pleased with the day, my time and my strategy.
Bring on the racing!"
Nick is competing next on 11th June at a race meeting at Rockingham in Corby. Go along and show your support, or catch up with him at a later round: http://uk.caterhamcars.com/motorsport/academy/events