GT Trophy at Brands GP.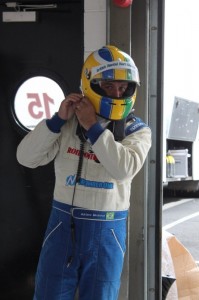 Brands Hatch GP for the GT Throphy.
The weekend was very eventfull, but it was great to be back at the wheel and drive around  such a great circuit. The GP is a really good, quick track and the porsche a great car to drive. Its very challenging to drive a porsche anywhere. It's a car that requires a lot from the driver.
This race weekend had to be the race weekend for the mechanics.  At the start Chris Bentley (my team mate) had a accident with a lamborghini which brought us to the pits for a long period and put us down to more than 30 laps behind. Then came the team…What a great job!  There was quite a lot of damage and they did all very well.
Chris went back to the track and we swapped places with 2h and a half to finish. During my stint I had a camera on board on the floor going from place to place, sometimes underneath the accelerator sometimes under the clutch. It was really hard to drive and keep kicking the camera all the time.
It was dificult to deal with some backmarkers, I did loose feel laps behind a Ferrari 430 driven by a gentleman driver. This kind of situation is not easy as the 430 is powerfull and the driver almost stopped on the apex of the corners. I asked the team to talk to his team, but seems like he doesnt care. So I managed to pass.
After an hour my rear tyre blew up. On times like this that I understand how good GOD is. The tyre blowing up on the straight so was easy to manage and bring the car to the pits. Then Chris went back to the car and finish the race, 13th overall and 3rd in class. The problem is we did 78% of the laps that the leader had done, so we didn't qualify.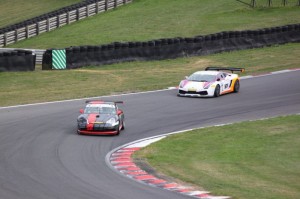 Overall, as I said before, it was great to be back in the car and drive. I do need to learn a lot in terms of my faith and motorsport and mainly how to show Christ at the track. But with the mercy of GOD and the help of my brothers and sister, Ill get there.
Thanks to GOD for the weekend.
Adriano Medeiros