Adriano Medeiros back to Brands GP for the GT Throphy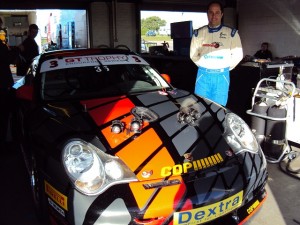 In 2010 Adriano Medeiros was coaching the driver Chris Bentley at the Gt Cup. The championship is a GT amateur series for the Gentleman drivers, and the series organisers create an endurance race called GT Throphy which became a sister championship.
Then Chris decided to participate in May at Brands Hatch GP, as it is an endurance race, there was a need for the second driver, So Chris gave the oportunity to Adriano Medeiros. The results couldn't be better. Win in Class and the driver Adriano Medeiros had ocuppied the 3rd place overall at some point during the race.
The success made Chris choose Adriano to race again on two other ocasions in the same championship.
The GT Trophy is a really good idea and has been doing well considering the whole situation of the motorsport industry, after all the crisis in the economy, bringing small numbers to the race track. Despite all of that, Chris and Adriano had been doing really well and had another win last year.
Again the race comes to Brands Hatch GP and the pair will race, once more, driving the Porsche 996 .
"For me this is great, it had been a dificult year and not much race. Its great to be able to go back to the track where I had my first win. The place is great and winning is even better. It was really good driving and nobody can take that away from us. My life with JESUS has been really interesting with ups and downs. I'm learning a lot but one thing I carry with me, GOD is so mercyfull to give me those chances. Motorsport is a really hard sport and there are no chances for people without money, but somehow I'm still doing a few races and really enjoy then. Thanks to GOD for this opportunity."
Lets pray that Adriano Medeiros have more doors open and keep racing.
GOD bless you.