FLYING LOW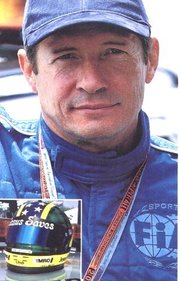 THIS ARTICLE IS EXTRACT FROM ALEX DIAS RIBEIRO BOOK "MORE THAN A CHAMP"
ITS A GREAT TEACHING!
FLYING LOW
Strange things were happening on Thursdays at Snetterton, my favorite track in England. The more superstitious among us thought that witches were loose around there after the death of three racing drivers.
Witches or not, I felt at home in Snetterton, not only because I lived close by and always practiced there, but also because it was there that I had won my first race in Europe. It had been a beautiful spring day, hot and sunny, in sharp contrast to the foggy, mysterious morning that I now faced.
It was September of 1974 and the weather was beginning to turn colder in eastern England, where I lived with three Brazilian friends in the small, quiet village of Wymondham, near Norwich, Norfolk. Our little house had two stories with two bedrooms upstairs. On the ground floor were the living room, bathroom, kitchen and a small office that served as my room and for which I paid a quarter of the rent. My colleagues were Marcos Moraes, also a Formula 3 driver, and his friends, Jorge Alexis and Cláudio César, whom we called Piauí.
Even though we hadn't known each other very well, we soon became a happy family. Marcos cooked.  Jorge and Cláudio took turns straightening up the house, and I was responsible for mowing the lawn and fixing things – sinks, venetian blinds, wiring, etc. We were living in that far off place because we wanted to be near the factory of GRD, the team for which we competed.
We were all newcomers to England and to Formula 3. We were going through the struggles of getting used to a new country and a whole new world: climate, language, food, customs, etc. Our only topic of conversation was racing, so it didn't really matter that the little town had little to offer in the way of activities or interesting possibilities. We were there to race and that was all we cared about.
The drive from our house to the racetrack took less than 25 minutes. On the way Piauí and I were again on our favorite topic of conversation, but this time the sharing also came around to how much we missed Brazil.  1974 would soon be over and we were counting the weeks before we could go home. We each had a plan for this long-awaited day when we would see our families, friends, and, of course, girlfriends again. We also missed the beaches, the warm sun and the food, especially feijoada, a typical Brazilian dish made with black beans and salted pork.
Everything looked peaceful as I drove my Ford Cortina slowly through the narrow rural lanes on that gray autumn day so common to England.  When we arrived at the track, Kiyo, my loyal Japanese mechanic, was warming up the engine of the GRD 374.  A cloud of steam formed around the hot exhaust pipes as they came in contact with the cold morning air.
We had lots of new parts and lots of new ideas to try out which meant that we had a long day ahead of us. I had arrived early, while the track was still deserted, for that very reason. I put on my helmet and gloves before slowly sliding into the tight cockpit. As soon as Kiyo had buckled up the six points of my safety belt, I took to the track, slowly warming up the tires, brakes, shock absorbers and the many other elements of a finely tuned racecar.
FULL SPEED AHEAD ON DEAD MAN'S CURVE
In those days, whenever there was Formula 3 race at Snetterton, I was the favored to win. It was a very dangerous course where I had a reputation for being one of the few who could handle the Russell bend, in front of the pits, flat out (with the accelerator pushed clear to the floor).  I somehow still managed this feat even after watching another driver die in that exact same spot – on a Thursday. But that unfortunate incident had happened back in the spring. In spite of the fact that I had been asked to testify at the police station as a witness to what had happened (because I was right behind him), a lot of water had gone under the bridge between that day and the present one and I had somehow been able to put the whole scene out of my mind.
Now I was scoring points in Formula 3 and fighting tooth and nail to be champion. The leader, Brian Henton, a veteran in the category with a car superior to mine, was significantly ahead of me after winning most of the races.
Without anyone knowing it, I was secretly dreaming of somehow winning the championship. It was mathematically possible, although not probable, since Henton all but had the championship in his hands. I was certainly not lacking in willpower or self-confidence. In spite of the fact that it was my first year in the category, everything had been going my way and I felt I was being pushed ahead by the Lord's power in my wings.
"If God be for us, who can be against us", was the Bible verse constantly running through my mind.
After three warm-up laps, I was quickly picking up speed.  By the fifth time around, I was ready to take the Russell bend flat out.  It was an "S" curve, which we did in top gear at about 200 km an hour. It had tall banks on both sides. It was fast. It was blind. It was deadly!
My technique consisted of throwing the car into the dark and, while inside the bend, finding the two clipping points. I then beat a straight path between the two, which automatically led me to the right point for exiting. The time difference between doing the bend at full speed and at almost full speed was major, because right after it the track rose and the extra speed carried me a lot faster to the straightaway in front of the pits.
When I shot the car into Russell, the car went into a spin. Suddenly I found myself going backwards at full speed toward the very bank where the three drivers had been killed.
HEADS DOWN
As I slid backwards, I tried to avoid the worst by getting the car back on to the track but when the wheels hit the wet grass, they turned into snow skis hurling me toward the fatal bank.
In order to diminish the impact and the risk of death, the administration of Snetterton had ordered that sacks of clay be stacked at the banks. But the rain had worked to change the angle and the shape of the sacks, which had now been transformed into a type of ramp.
The shock of the reverse thrust of the car against that ramp-barricade rocketed the car into space in an almost vertical take-off. As I started soaring, the engine died and, in the silence that followed, I could hear the whistle of the car cutting the air in its flight.
I closed my eyes, took my hands off the steering wheel and went into fetal position, quickly locking my arms between my legs to avoid breaking them, as my friend Marcos had done, when he suffered at the hands of the same curve. For a fraction of a second, I opened my eyes just to see what was happening and immediately closed them again. I had discovered that I was upside down, at least five meters off the ground…
My last thoughts were, "Lord, take over.  This is going to be a tough one."
THE SNETTERTON PRINCIPLE
Everything happened in a question of seconds. But even now I remember every detail as if it had taken place in slow motion.
At that height, that speed and in those circumstances, only God could do anything for me. Even considering my ability as a driver, there was absolutely nothing that I could do but wait for the blow.
That's how I learned that, "Man's impossibilities are God's opportunities", as Corrie Ten Boom says.
Even though he is more powerful and more capable than we, he often doesn't get a chance to work on our behalf because of our self-sufficient attitude, which leaves him out of our lives.  We often think, "Sure God exists, but he's in heaven and I'm here.  I'm the one driving the car of my life."
Every once in a while he turns us upside down so that we can see things from a different viewpoint – his viewpoint.
It is at exactly at this point that God enters the story I want to tell you in this book.
FORCED LANDING
It wasn't the easiest of landings. I remember the car landed first on the front and then on the rear. A series of blows to my head caused me to lose the notion of what was happening. Later they told me that I rolled six times before landing, right side up. I lost all four wheels, the bodywork, wings and radiators in a spectacular manner. They were flying every which way while the car rose and fell. When it finally stopped, all that was left was the chassis, the engine and I, covered with hot oil, which I at first thought to be blood.
My helmet lost its visor and the rubber that framed my face, but I was unharmed.  Not a scratch! I released the belts and jumped out of the wreckage immediately, before Kiyo and Piauí had recovered from the initial shock. They were paralyzed for a few moments after observing the scene that had taken place before their eyes.
When they were finally able to move, they crossed the track at a run, and, not knowing what else to do, both hugged me at the same time. They were more scared than I was. When they managed to find their voices again, they never stopped talking, repeating over and over again every little detail of the accident.
I left the wreckage in their hands and went to the hospital in Norwich to have the doctor look me over.  Later, returning home, I prayed at the wheel of the Cortina, "Lord, thank you so much for sparing my life and for teaching me an important lesson.  And since you're so good, I'd just like to ask for one more thing: please help me to get another car, so I won't miss the race this weekend in Mallory Park because Frank Williams is going there to watch my race and it might mean a future chance in Formula 1."
AT YOUR SERVICE
When I arrived home, I fell on the bed, still dressed in my racing overalls. I slept deeply until hours later I was awakened by the ringing of the phone. It was Marcus Zamponi, a journalist for Auto Esporte, a Brazilian magazine. I told him my story firsthand, changed my clothes and ran out to survey the damage, trying the whole time to visualize my participation in the race the following weekend.